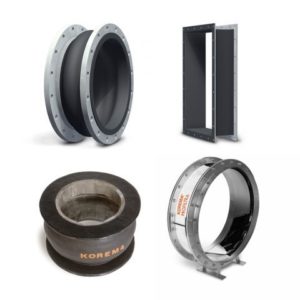 Prevent damage to your piping system
Like other materials, metals  expand or contract with changes in temperature. Motors, pumps, compressors, etc. can also transmit vibrations to the piping system. When a (metal) pipe is attached to a construction of equipment, this can cause problems. The pipes deform or damage causing leaks.
To prevent these kinds of problems,  an expansion joint is used. An expansion joints axial, lateral and radial movements in the piping system.
Expansion Joints of rubber, fabric and metal
Profiltra supplies an extensive portfolio of expansion joints in various materials, shapes and dimensions. Varying from a few centimeters to several meters.
The right expansion joint for your piping system
Our product specialists are at your service with personal advice and extensive product knowledge. We have the latest analysis and calculation programs to design the best solution for your piping systems. In accordance with your standards and requirements.
 Safe and professional installation
We are VCA ++ certified and employ experienced technicians who can install the expansion joints in a safe and reliable way.
More information about our Fabric expansion joints
More information about our Metal expansion joints
More information about our Rubber expansion joints