MEMBRANES FOR INDUSTRIAL APPLICATIONS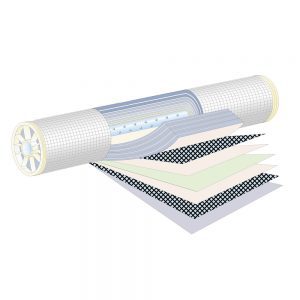 Reverse osmosis – RO membranes
With the aid of reverse osmosis membranes, the smallest monocarboxylic ions can be filtered out of the water.
Applications
Desalination of brackish water
Concentration of process flows
Waste water applications
Processes with hot water purification
Nanofiltration – NF membranes         
Separation of micro impurities from 200 g/mol to 1000 g/mol and polyhydric ions.
Applications
Brine purification
Concentration of dyes
Purification of diluted acids
COD-removal from waste flows
Ultrafiltration – UF membranes
Separation of macro molecules size 2 nm to 0.1 micron.
Applications
Exact fractioning of organic solutions
Decrease of color and TOC concentrations
Removal of sulfate salts from organic solutions
Purification of chemical liquids
Microfiltration – MF membranes
Removal of non-dissolved particles of 0.1 to 20 microns.
Application
For the filtration of process flows
Protect your membranes with our pre-filter materials
To effectively protect the membranes, a pre-filtration step must be applied. We supply filter cartridges for this, among other things.