MEMBRANES FOR SANITARY APPLICATIONS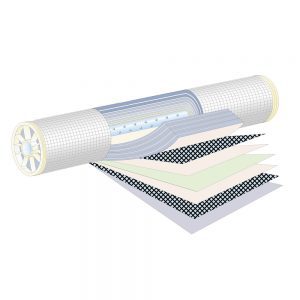 Reverse osmosis – RO membranes
With the aid of reverse osmosis membranes, the smallest monovalent ions can be filtered out of the water.
Applications
Sugar concentration
Grapes, wine and must concentration
Purification of high-quality organic molecules
Nanofiltration – NF membranes
Separation of micro-contaminants from 200g/mol to 1000g/mol and polyhydric ions.
Applications
Desalinization lactose of lactose
Deacidification and demineralization of whey
Demineralization of UF-permeate
Purification of sugar solutions
Purification of monosaccharide solutions
Ultrafiltration – UF membranes
Separation of macro-molecules size 2nm – 0.1 micron
Applications
Whey and milk protein concentration
Microfiltration – MF membranes
Remove non-dissolved particles of 0.1 – 20 microns
Applications
Adjustments of acidity and alcohol content in wine
Removal of fat and colloidal impurities in food flows
Purification of cheese baths
Protect your membranes with our pre-filtration materials
To effectively protect the membranes, a pre-filtration step should be applied. We supply filter cartridges for this, among other things.