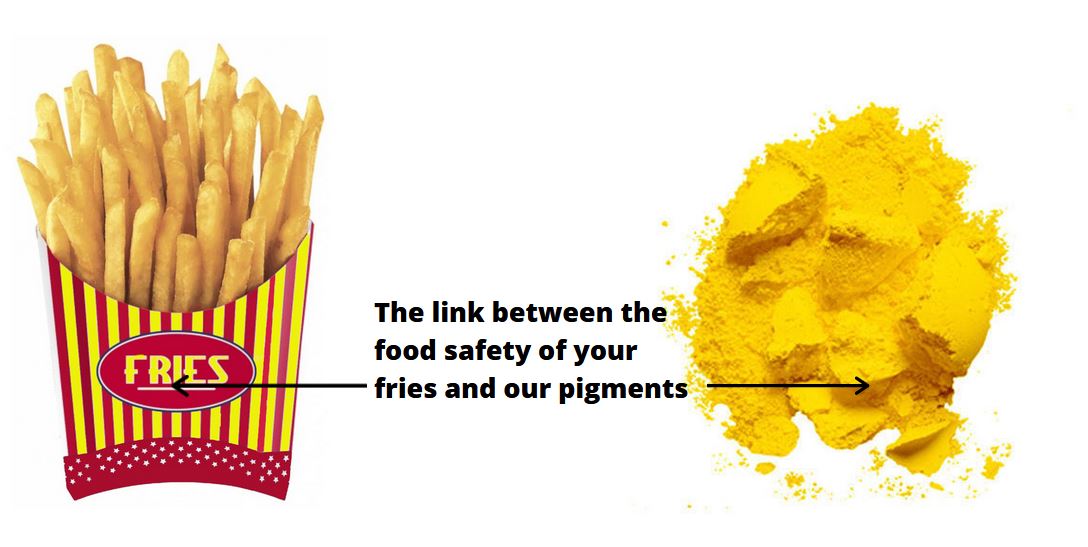 Very strict food packaging requirements
When eating your French fries, you may not realize that the printing of the packaging box must meet very strict requirements. As supplier of pigments, we are in the center of the food chain and therefore at the basis of the safety of your food.
Measurements increasingly sophisticated
Driven by increasingly strict quality requirements and supported by technology, the quality of food contact materials is improving. Ever more sophisticated measuring equipment can measure ever smaller quantities of contaminants in the ink used for printing the paperboard trays. Currently, this equipment is capable of measuring so accurately that 1 polluting particle can be detected out of 1 billion particles.
Specially selected pigments can be applied in fast food packaging
Profiltra has already been a long-time pigment partner of the international food packaging industry.
Our pigment yellow 13, for example, is one of the pigments that meets the very strict food safety requirements. Each produced batch of this pigment is specifically checked. Our customers want their packaging to be safe for the consumer, that is why, among other reasons, they choose Profiltra as their supplier.
Direct contact with pigment producers and controlled quality
Our pigment specialists can select the right pigment for each specific application, taking the corresponding requirements into account. Among other things, they are in direct contact with the R&D and production departments. This enables them to transfer the requirements of the customer and European legislation directly to the manufacturer. All our pigments are extensively tested for their safety and technical properties so that a constant high quality is guaranteed, so you can enjoy your comfort food safely.